Signing in
We recommend you sign in with your University Single Sign On - TrueYou. Go to mailman.nebraska.edu and choose "Login"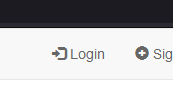 Once the login page opens, choose "TrueYou Identity Manager" and follow the steps provided to sign in and confirm your account.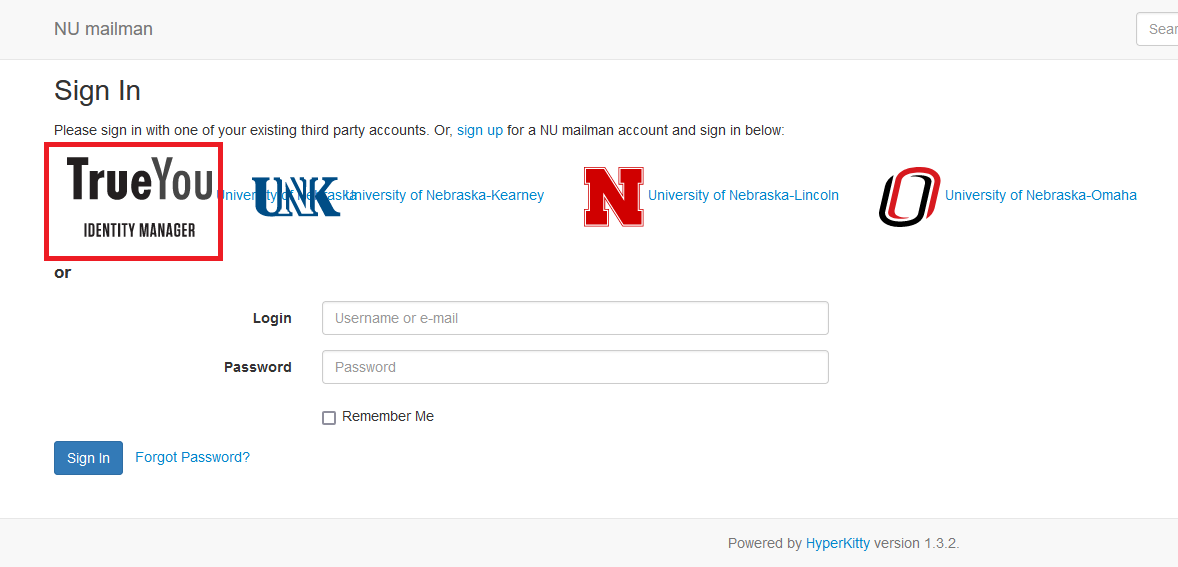 New Lists
Lists are created with some basic settings. By default, they are created as "Announce-only", which means that only specified users can send to them. All other users will receive a rejection message. List owners are added as members with Message Submission permissions, so any email they send to the list will immediately be processed and sent out.
They will not be displayed on the Mailman List Index, so people not affiliated with the list will not see that the list exists.
Managing Users
Users are categorized into Roles, which determine how they interact with the List. There are four types of users.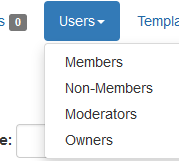 Members are the most common. They are users that receive emails sent out by the list and have permission to, if configured, communicate on the discussion board of the mailing list. Members are added or removed by list Owners using the Mass operations tab. The checkboxes show what steps the will need to be completed after the Mass subscribe operation is complete to successfully add the users.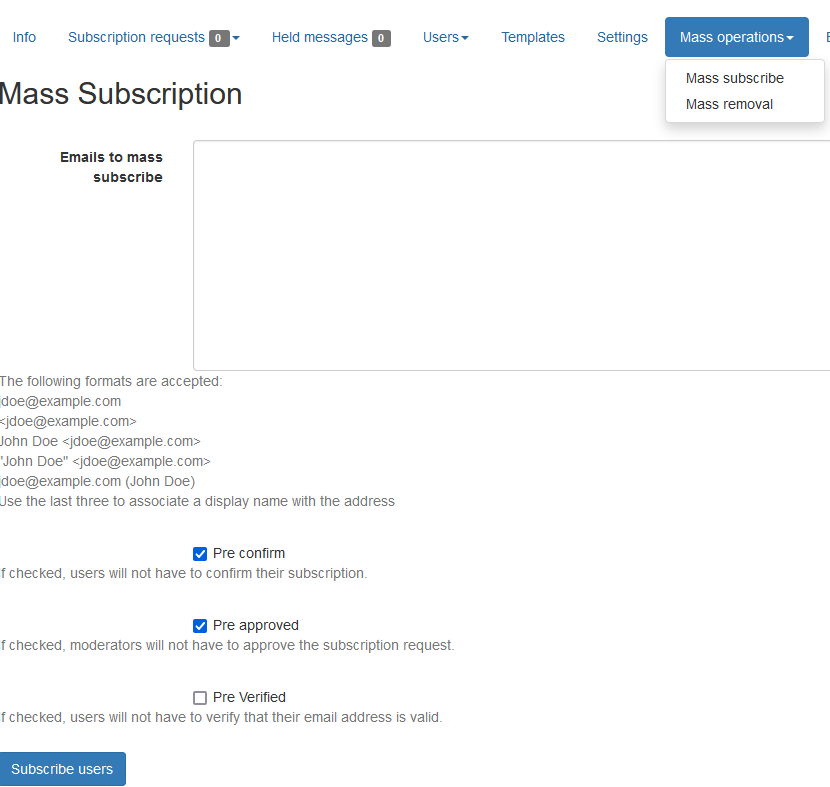 Non-Members are the rarest. They are users that do not receive emails sent out by the list, but can be granted permission to communicate on the discussion board if the List Owners choose to allow it. Members and Non-Members are incompatible with one another, so make sure that any users you are adding as Non-Members are removed from the Members list!
Moderators have more power than Members. They are a type of list staff whose primary role is to approve or reject mailing list messages and to moderate the discussion boards.
Owners are the most powerful role. They add or remove Moderators and make decisions for the entire list, including membership policy and automatic responses. They do not always have the same powers as Moderators, but individuals can be both Owners and Moderators.
Messages
Mailing Lists are versatile tools that can be used for one-way communication by the list staff, a place where all list members can share messages to each other, or a discussion board for members to have active communications in a public forum, depending on how they are configured.
Most lists are used for communication by the list staff to its members. If message submission is limited in the settings, it restricts whose message submissions will be sent out by the list and whether those messages will be held for review before sending.
Held Messages are messages that have been sent to the mailing list, but not yet sent out to members. Moderators can choose to Accept the message and send it out, Reject the message and send it back to the sender (with a response, if desired), or Discarded and thrown away entirely.

Automatic Responses are used to automatically communicate with people in ways that aren't mailing list-wide. These can be responses to messages sent to the -owner address or requests to join, or a welcome message to new members.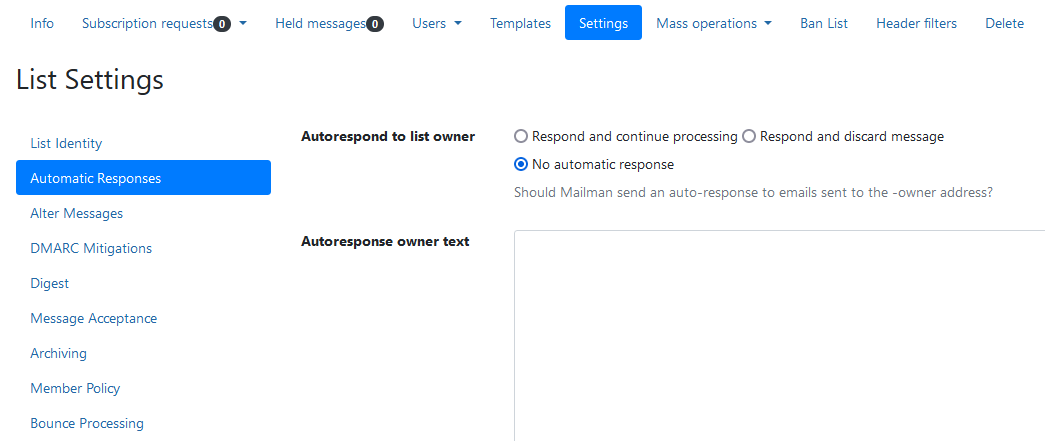 Lists that are used as Discussion Boards are responded to directly in Mailman. They are still Mailing Lists with the full capability of sending messages to their members if configured to do so by their owners.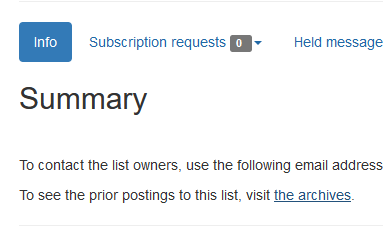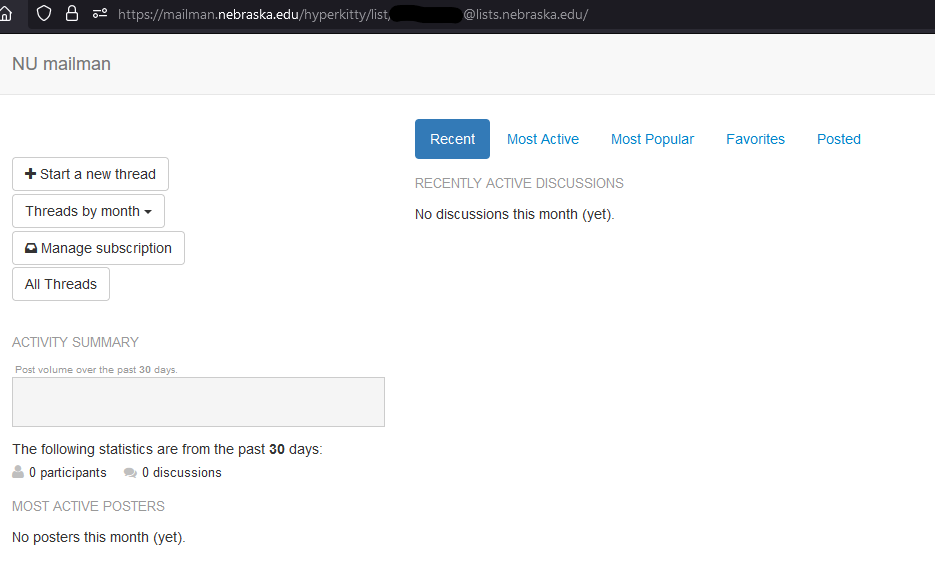 Managing your List
List Identity
The List Identity can be managed by the owners to change whether a list is shown on the list directory, alter the List Description or Information, or even change the list's display name and Subject Line prefix.

Moderation
Lists can be Moderated (submissions reviewed before being sent out by one or more Moderators) or Unmoderated (open lists that send out any message sent to the list from an approved source).


List Aliases
If you would like the list to accept messages sent to addresses other than the default list address, additional list addresses can be configured in Settings > Message Acceptance > Acceptable Aliases. They will need to be a domain managed by Mailman (@lists.[NAME].edu).

Automatic Processing and Responses
A list can be configured to automatically respond to certain actions. If configured, a custom response will be generated and sent to the user's email address using a Template.

Managing Who Can Send
With some lists, you need to control who can send to it more tightly without frequent moderation. The easiest way to allow only specific people to send to the list is to use Member specific options.
You can change the default behavior of the list to prevent users from sending messages into the queue (as shown above under Moderation) and change specific users' behaviors as shown below.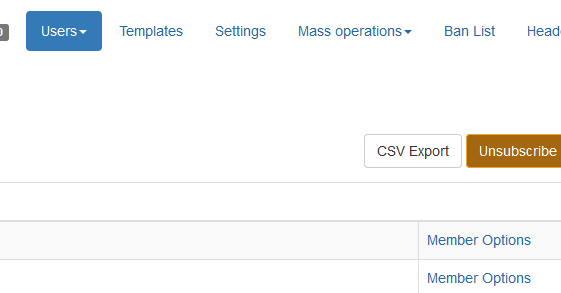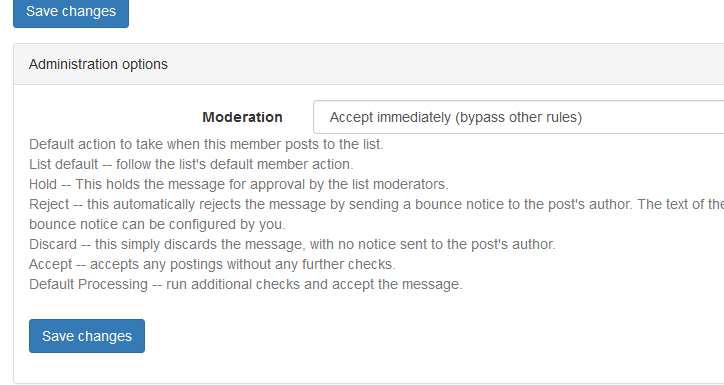 Changing the Reply-To address
With some lists, you may want to control what the list shows for replies. That can be changed in Settings > Alter Messages.

First, set the Explicit Reply-To address. This will be the address that is displayed. Then, change the setting "Reply goes to list" to "Explicit Reply-to header set". This makes the list remove the list's reply address from the outgoing message and replaces it with the address you have set.

Welcoming New Users
By default, users are added to the list silently, with no notification. However, if you would like to send a message to users when they are added to the list, you can set up a Welcome Message. This will send a customizable message to users as they are successfully subscribed to the list.
Enable Welcome Messages under Settings > Automatic Responses > Send welcome message.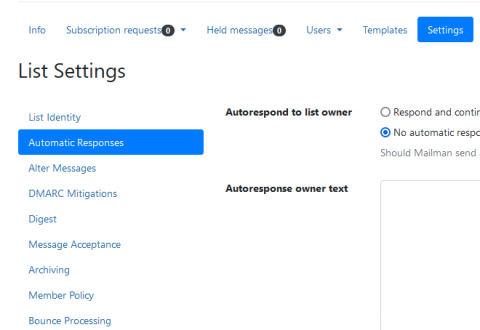 And Customize them using the template located under Templates > list:user:notice:welcome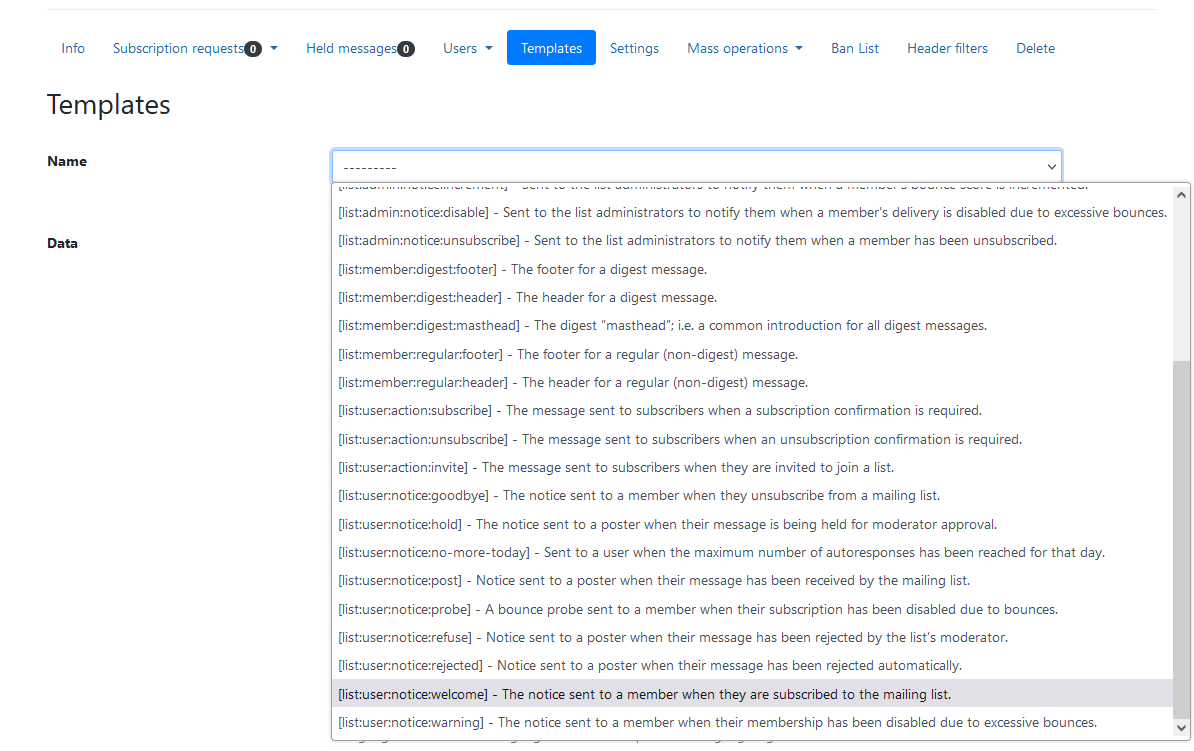 Adding a footer to all messages
Footers are useful on outgoing messages if you need to include the same information on every message you send, like how to contact the list owners, info on how to unsubscribe, or identification of the list. They can be set using the Message Template section.

The template used for this is [list:member:regular:footer]. As the name states, it's a footer (placed at the end) attached to all regular messages (normal message submissions, not digest summaries) that are sent to list members.
Integration with Grouper
Grouper, the University's Group Management system, can allow automatic group membership updates. This is only useful in certain cases. If a Mailman list's membership needs to be dependent on membership in another group (a specific college, a staff role, etc.) Grouper can take that group membership and automatically provision membership to Mailman. Once membership of a Mailman list is based on Grouper, you won't be able to manage it using the Mailman interface - the Grouper group membership will overwrite any changes to the membership you make.
Grouper can manage a few different roles.
Receiver is for users that should receive messages from the list, but cannot send.
Sender both sends and receives to the list.
These two are tied together, and if one exists in Grouper, the other can only exist in Grouper, if it exists at all.
Send-Only does not receive messages, but can send to it.
Owner and Moderator are the same as their directly managed Mailman roles.
If a list needs to be managed in Grouper, create an Allow and Deny group with the pattern [LISTNAME-ROLE]_Allow and [LISTNAME-ROLE]_Deny and include that location in your list request. For example, Samplelist-Senders_Deny. The list membership composite group will be built in an application specific folder based on those allow and deny groups.